Environmentally friendly means of transport – for companies
At Amcargobikes we want to contribute to more sustainable and environmentally friendly transport. There is no doubt that bicycles are the most environmentally friendly means of transport. Bicycles are both cheaper, less polluting and more readily available than cars.
Business has to run, and time is often short. There may be a need to transport heavy goods or a lot of stuff, that must not be exposed to wind and weather. It's not always a bike is sufficient to meet the need for efficiency. Then it's easier with a car…
Or a cargo bike!
A cargo bike can cover many of the same needs for convenience, efficiency, storage and transportation, as a car. With an electric cargo bike, it all becomes even easier.
Amcargobikes has a large selection of special designs. If you need a ramp, possibility of serving, locking, covering, etc., it is not a problem. We design the bike to suit your needs.
With foil cladding, you have the opportunity to design the bike so it reflects your brand, and you show the outside world that you are a responsible and environmentally conscious company. We print your advertising foil just the way you want it.
At Amcargobikes, we have said goodbye to the car ourselves, and use the electric cargo bike as our primary mean of transport. Whether you want to completely change the mode of transport, or whether the cargo bike should be a supplement to the car, there are great savings to be made. It is a big saving, financially and environmentally, but there is also a lot of time to save. Many companies struggle with having to find parking spaces in the city and then with the following parking fees that can quickly add up to be expensive. Among our customers we have cleaning companies and musicians who have chosen the cargo bike primarily for these reasons.
Dyrup (in Denmark) has chosen to supplement the car fleet with electric cargo bikes from Amcargobikes: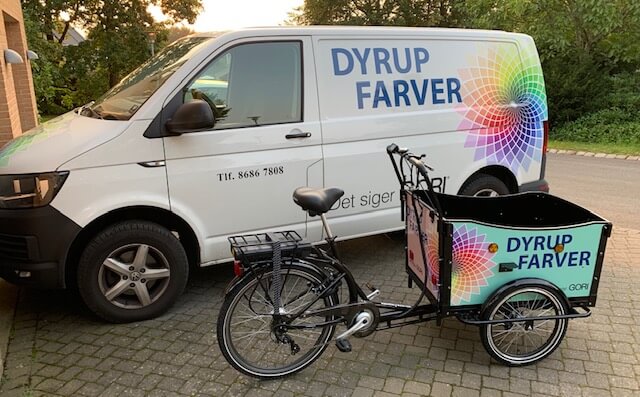 Smart
Amcargobikes supports the Danish-Swedish project SMaRT. SMaRT is short for Sustainable Mobility Rural and Urban Transport, and aims to develop, improve and create easier access to environmentally friendly transport systems. It is about increasing the population's awareness, attitude and knowledge about sustainable transport solutions. Read more about the project here:
SMaRT
Save money and take care of the environment – Replace the car with a cargo bike!
At Amcargobikes, we believe that everyone should be able to afford a cargo bike. We therefore have cargo bikes in different price ranges, so everyone can join.
With our large selection, we are sure you can find one that suits you and your specific needs: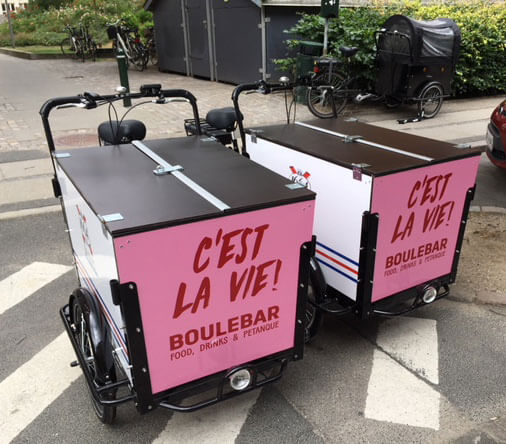 Advertising Printing / Foil
Complete your look with a foil print to showcase advertisement. Send us an email with your wishes, and we will find a good price: