Electric Cargo Bike Ultimate Harmony – Amcargobikes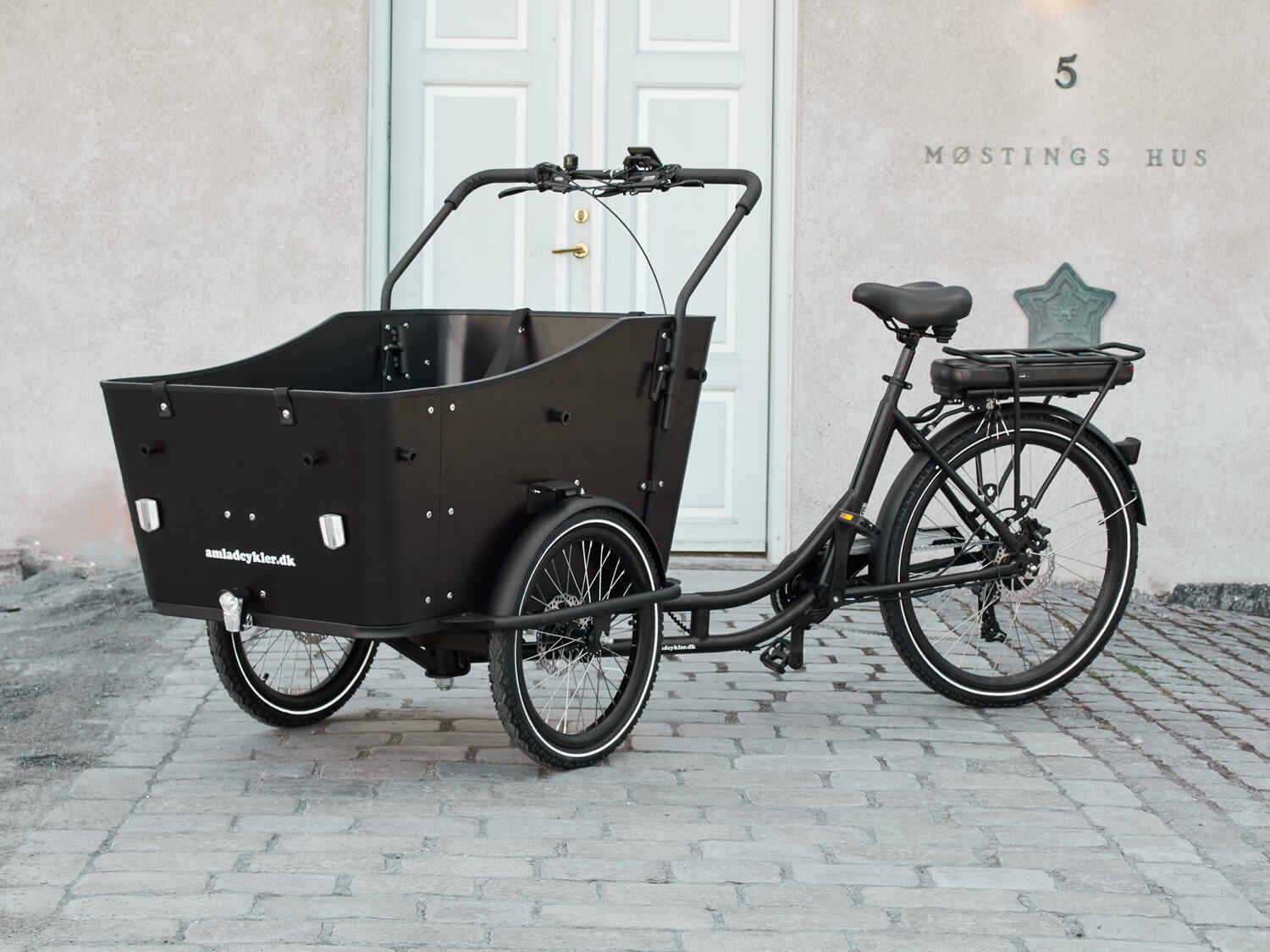 Electric Cargo Bike – Ultimate Harmony! We would like to introduce to you, our latest electric cargo bike from Amcargobikes, Ultimate Harmony. Our new electric cargo bike has a beautiful and exclusive poplar black wood box and a sleek "slim design". Our new top model is perfect for you if you want a top-class cargo bike, where both design and functionality are in focus. All our cargo bikes are 100% Danish built.
Ultimate Harmony comes with our new anti-tilt system and hydraulic disc brakes from TEKTRO on both front and back wheels. This brake system requires less maintenance and minimizes the use of handpower, when using the handbrakes. Furthermore, these brakes are equipped with the latest electronic auto-motor-stop system.
With Ultimate Harmony, you also get 3 strong anti-puncture tires, so the risk of a flat tire becomes minimal. This new quality cargo bikes comes with a powerful 250W motor and you can ride up to 60 km. per charge, with the powerful 13 Ah battery (even in the winter). The bike comes with a user-friendly LCD display.
Order your new Ultimate Harmony today
When you buy our new Electric Cargo Bike, the following will be included:
Ultimate Harmony:
Steering: Newest" Anti-Tilt" patented steering/handlebar system with self- straightens adjusting function. Makes it super easy to turn and steer, straightens automatically
Motor: Powerful 250W Brushless motor with the latest" Low Energy Consumption & No Noise" technology
Battery: 36V, 13 ah Li-ion battery – 468WH – with anti theft lock, CE, GS & TÜV approved
Gear: 7 external Shimano Tourney (SIS) gear med friløb og Shimano gearskift
Brakes: Tektro hydraulic brakes fornt and rear with electric brake system + parking brake
Bake light: Automatic brake light. Lights up when you brake
Loading capacity: 150 kg.
Weight: 47 kg.
Dimensions: 222cm X 118cm X 82cm (L X W X H).
Accessories:
Removable canopy system with transparent panorama canopy and entrance from the sides
High-quality front- and rear fenders
Luggage rack with straps
Chain cover
Bell and several reflectors
2 x Powerful LED headlights and 1 x rear light
Safety belts for 4 children (2-point safety belts)
Children's bench for 4 children
Step board for children
Order Ultimate Harmony here.
See our selection of accessories and parts here.
Please feel free to contact us if you have any questions
+45 5047 9845 Copenhagen
+44 73760 19977 London – Cyclop Bikes
Follow us on Instagram here.