BEFORE PURCHASE
Which cargo bike should I choose?
– What you should consider before buying a cargo bike…
1. Purpose:
Before you start researching the market, it is a good idea to make yourself clear what purpose the cargo bike should fulfill for you in particular.
– Should it be used to carry children in? And if so, how many?
– Should the cargo bike be used to ride with goods / tools? And should there be an opportunity to be able to lock the box off?
– Should it be used to transport machines? And should there be a ramp to get the machines up?
– Or should your dog have the pleasure of being driven around in a cargo bike?
2. Electricity or not:
Whether your bike should be with or without electricity depends on your needs. We recommend a cargo bike with electricity, as it can always be switched off, when it is not needed. And it's always great to have tailwinds in all kinds of weather! But an electric charge bike also requires a little more maintenance and is a greater expense. It is worth considering:
– How far should I drive? If you just need to drive 1 km back and forth from the kindergarten, a classic cargo bike without electricity is plenty for your needs. However, if you want the opportunity for long trips, riding in hilly terrain or riding with a heavy load, an electric cargo bike will be preferable.
3. Scope:
How much are you going to spend on your cargo bike? Should it be used for a trip with the kids on Sunday? Or shall you drive 13 km. every day to work? A bike that is used a lot obviously requires more maintenance as it is exposed to more wear and tear. Here it is especially the brakes that can require a lot of maintenance if you do not choose the right ones (see options below). And if you have to drive a long way, the size of the battery can matter.
4. Maintenance:
A cargo bike must be maintained just like any other means of transport. And if you have an electric charge bike, it requires a little more than a normal bike. In addition, you should consider which model you choose. The cheaper models often require more maintenance than the more expensive ones. Consider possible your own abilities and what you want to do yourself:
– Can you change brake pads, cables etc. yourself?
– Do you want to do a little yourself, but otherwise leave it to a bike mechanic?
– Do you know nothing yourself, or do you not have the time?
5. Insurance and locks:
Cargo bikes are unfortunately in high demand among thieves, and it is therefore important that you secure yourself as best as possible:
– Do you have control over the insurance?
– What about locks? Are they insurance approved?
Amcargobikes recommend a
long chain lock
that can be used to lock the bicycle to e.g. a lamp post or similar. We recommend a min. 55 inches long chain lock, as it is long enough to go around the handlebars and thus does not have to lie at the bottom of the bike while riding and make annoying noises. See our selection of locks here:
Locks for cargo bikes
.
In addition, we recommend a
lock for 'the fast parking'
, e.g. when just shopping. Some insurance companies require double security, two locks.
6. Purchase of accessories:
All our bikes are delivered with a range of equipment (see what under the individual bike), and are ready to ride upon receipt. Additional accessories can always be purchased afterwards. If you have specific needs that need to be clear from the start, they must be ordered at the same time as the bike.
– Do you drive with children under 1 year? Then a
baby sea
t is a good choice.
– Should your bike be parked outside in all kinds of weather? In that case, we recommend
a garage
.
7. Taste and comfort:
Taste is individual. So whether you are for round corners or sharper edges, we can not advise you in. If you have requests for space for the legs of the rider of the bike, or need to ride with larger children / adults in the box, or perhaps vice versa want a bike, that takes up as little space as possible, then we can help.
8. Price:
Price is often a deciding factor when buying a cargo bike. At Amcargibikes, we believe that everyone should be able to afford a cargo bike. And we can offer a cargo bike all the way down to 925,95 
£
. But it is clear that you will get more if you pay more. Our top model for 2.769,95 
£
is thus equipped with the best of the best… and is still a cheap cargo bike in the luxury class.
Which cargo bike should I choose?
The table below can help you find the model that suits your needs: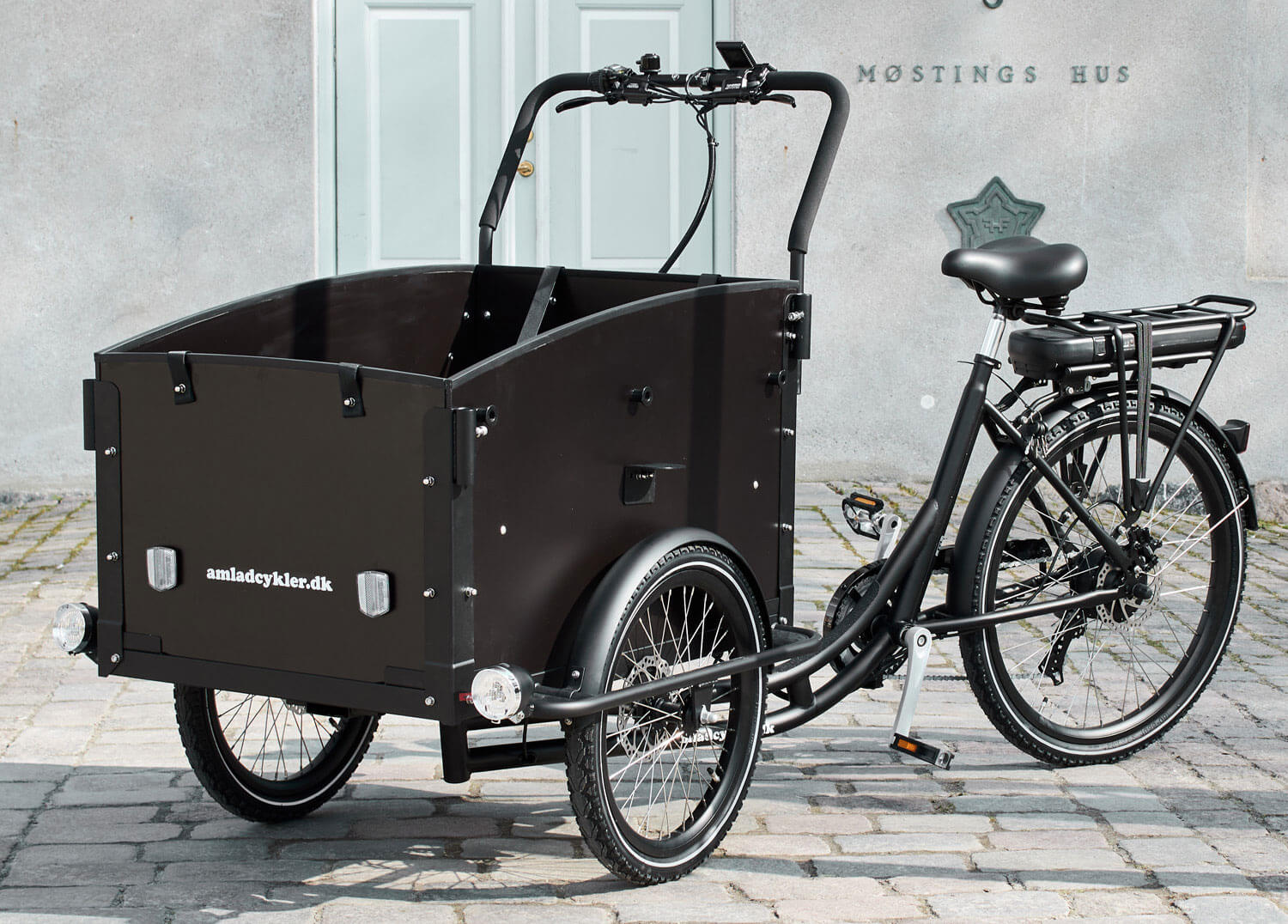 Are you still in doubt? Call us and let us guide you: